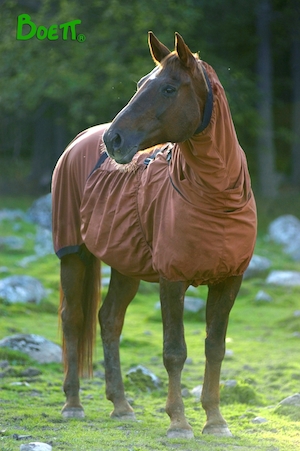 A solution that dramatically improves the quality of life for every horse that suffers as a result of Sweet Itch
The Boett® Veterinary Blanket
Widely recommended by Veterinarians who have witnessed first-hand the rapid and impressive results in affected equines. The boett blanket provides a totally effective barrier against insect attack and prevents the typical symptoms of this allergy.
Unique, breathable, water repellent fabric.
A design that is so effective other rug manufacturers are copying it!.
Proven for over 15 years.
Does not cause overheating, used in Australia, Saudi Arabia and other hot countries comfortably.
Does not damage hair.
Boett Blanket Sizing help
The Boett blanket must fit. In order to ensure that your blanket is sized correctly, please supply us with the following measurements:
IMPORTANT: Read instructions carefully for guidance:
A Measurement
Imagine your horse is backed up against the wall, the measurement is taken from the centre of the chest, to the end of the hindquarters (but not around to the tail). This measurement should be within a few inches of the length of the rug that the horse normally wears. (See Measurement Guide Below of example)
5ft 0″ rug =60″ A would be 56″-59″
6ft 0″ rug =72″ A would be 69″-71″ 
B Measurement 
Circumference of the loins, taken just in front of the hindquarters. N.B. B measurement is always larger than A
                                                                               Size and price guide information.